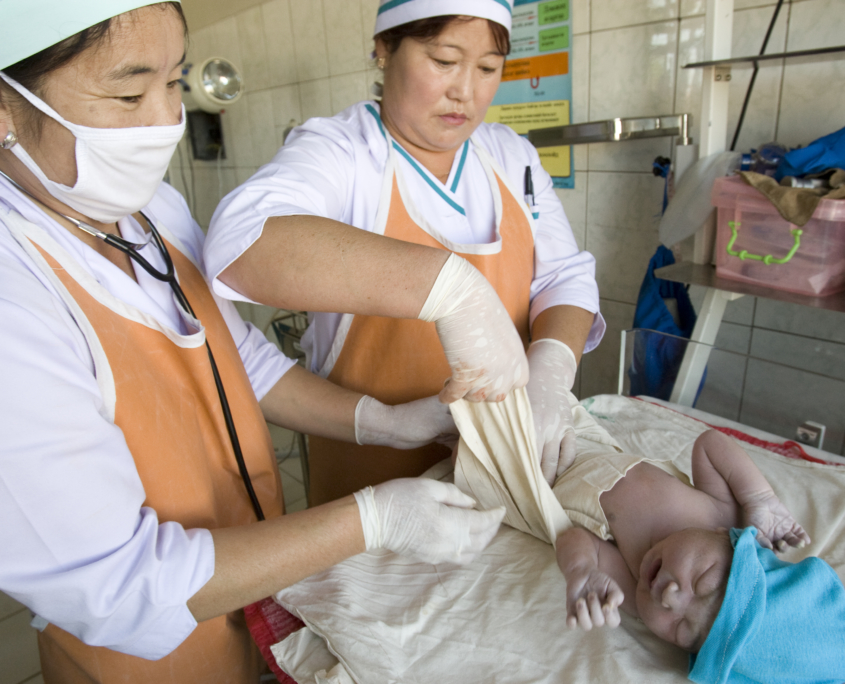 In recent years, the nomadic population of Mongolia has seen negative impacts from environmental changes. Extreme winters have killed off much of their livestock, resulting in widespread food insecurity. As younger generations become less interested in agricultural jobs, fewer opportunities lie in the rural region of Mongolia. Due to these factors, healthcare accessibility has become limited. Healthcare has affected Mongolia's childbirth practices significantly. However, improvements in healthcare are on the horizon for Mongolia's people. In recent years, Rotary Club member Julie Dockrill has trained mothers and healthcare providers in Mongolia, improving education regarding childbirth. Dockrill's work is critical for women living without access to hospitals. With progress such as Dockrill's education initiative, maternal and infant mortality rates are beginning to decrease.
Poverty in Mongolia
Mongolia has made significant economic and social improvements over the past few decades. Since 1991, its GDP tripled and the maternal death rate decreased by 87%. Poverty reduction rates vary widely across the country, with rural areas seeing the greatest change. From 2016 to 2018, poverty declined by 5%, whereas urban areas remained unchanged. This is due to increased prices for livestock and no wage growth in urban areas. Cities have also faced heavy air pollution and tripled rates of respiratory illnesses over the last 10 years.
Additionally, COVID-19 has posed a major risk for Mongolian citizens. Overall, the pandemic caused the economy to shrink by 7%. Other factors that worsen poverty are extreme weather conditions, lack of sanitation and food insecurity. With a small population of 3 million, those living as nomads face great difficulty accessing healthcare and other services.
The History of Mongolian Nomads
Nomadic herders make up 25% of the Mongolian population. Nomads live in traditional Mongolian housing districts called gers — portable round tents. These gers exist all over the plains and mountains of Mongolia. However, environmental challenges have hit these gers harshly. The average temperature since 1940 has risen 2.2 degrees Celsius, which is significantly greater than the world average temperature change of 0.85 degrees Celsius. There is also less rain, making ponds and rivers dry up. Herds of livestock and horses have a difficult time finding water and cooling off in the warmer months, because of their thick fur that keeps them warm in -40 degree Celsius winters. Consequently, cities draw young adults away from nomadic life, with easier access to healthcare and education.
Mongolia's Childbirth Practices
In rural areas, limited access to hospitals and doctors makes childbirth risky. In 1995, the U.S. State Department sponsored a medical team from Tripler Army Medical Center to a hospital in Mongolia for training. They observed dim lighting, physicians reusing gloves and aprons between patients, limited supplies of IV fluids and use of anesthesia without proper safety checks. There was also almost no equipment for natal care and mothers after giving birth.
As a result, many women in the 1990s gave birth at home, which had the potential to be traumatizing if they had a difficult labor. Since then, there have been significant improvements in Mongolia's childbirth practices. The Mongolian government began reform movements that opened maternity waiting homes across the country. Expecting mothers from nomadic areas can visit these facilities if their pregnancy is high-risk. This way, women can be closer to hospitals in case of an emergency. It is now standard for healthcare providers to encourage women to visit one of the prenatal clinics two weeks before their due date. Online information and telehealth also provide access to reproductive health information. Success is evident. From 1990 to 2019, infant mortality rates have decreased from 77 per 1,000 births to 13.4 deaths.
The Rotary Club's Work
Julie Dockrill is a midwife and childbirth educator from New Zealand. In 2013, the Rotary Club of Waimate asked if she could join them in a project training medical workers to improve childbirth practices in Mongolia. A major thing she noticed was that mothers only received basic care information. Thus, Dockrill held training classes for pregnant women using baby dolls and anatomical models, expanding on the knowledge displayed in traditional pamphlets.
In Mongolia, people often treat labor as a quick process, which can lead to complications. Dockrill explained to her training class that medical professionals should not rush labor and that they should treat the procedure with care. The class led to immense success, influencing the Rotary team and Dockrill to continue through 2015 and 2016. Additional phases of the project included a Mongolian midwife shadowing Dockrill in New Zealand, training over 300 healthcare workers in Mongolia and bringing medical supplies.
In 2018, the team returned to Mongolia to provide healthcare and education to rural communities. Dockrill also wrote an updated training manual that covered immunizations, pain relief, diet and doctoral instructions. As a result, the Mongolian Ministry of Health endorsed and adopted the manual. In 2019, Nepal adopted the text as well. Mothers must now take childbirth education classes and receive more advanced resources for childbirth services.
The Future for Mongolia
Mongolia's reduction of maternal and infant mortality rates over the last 30 years has led to decreased poverty rates in the country. One of the major steps to reducing poverty currently in place is focusing on the rural communities of Mongolia. Access to healthcare is one of the main ways to improve Mongolia's childbirth practices. With progress like Dockrill's work and the Tripler Army Medical Center, further progress in eliminating poverty is clearly in motion.
– Madeleine Proffer
Photo: Flickr
https://borgenproject.org/wp-content/uploads/logo.jpg
0
0
Kim Thelwell
https://borgenproject.org/wp-content/uploads/logo.jpg
Kim Thelwell
2021-08-11 06:39:03
2021-09-14 03:21:56
Improving Mongolia's Childbirth Practices