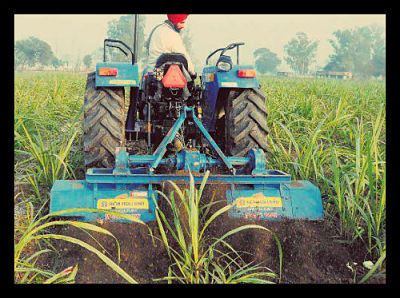 The US Agency for International Development is attempting to replicate the success of an Indian business in Africa. The effort is part of a three-year program called Africa Lead, which is associated with the US government's Feed the Future initiative. Africa Lead aims to train Africans in innovative ways to tackle food security issues in their communities. USAID is sending Africans to Fazilka, a border city of Punjab in Northern India, to train with Zamindara Farm Solutions (ZFS). The company attempts to serve as an all-needs agricultural supply company, and its business model is unique and groundbreaking.
ZFS leases farm equipment with trained operators. This allows the owners of smaller farms, which are extremely prevalent in both India and Africa, to avoid taking out loans to make unnecessary investments inexpensive equipment. As a banker from Uganda who took part in the training program, Nicholas Abenda, observed, "Owning machines in not mandatory" for smaller farmers in Africa. The company also sells new farm equipment and provides maintenance and parts. It also offers education on the most efficient farming methods and on farm economics. It currently has operations in roughly 500 villages in India.
The ZFS business model has multiple advantages. It allows small farmers to avoid going into debt to purchase expensive equipment. Many farmers who make these types of investments are ultimately unable to repay their loans and become overwhelmed by debt. The ability to have access to the equipment without going into debt improves farmers' financial stability. This allows agricultural production to become cheaper, which can increase farmers' profit margins and decrease the price of food. Additionally, this business model encourages more farmers to use yield-boosting technologies that they otherwise may not have access to. USAID sees this business model as an innovative way to minimize food insecurity in underfed African communities.
– Katie Fullerton
Sources: The Hindu, The Times of India, Africa Lead
Photo: The Hindu
https://borgenproject.org/wp-content/uploads/The_Borgen_Project_Logo_small.jpg
0
0
Borgen Project
https://borgenproject.org/wp-content/uploads/The_Borgen_Project_Logo_small.jpg
Borgen Project
2013-06-25 04:00:06
2021-06-25 11:38:23
Indian Business Model Can Minimize Food Insecurity in Africa