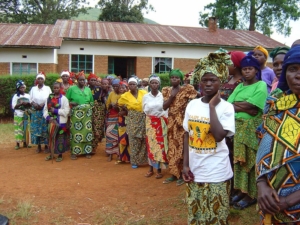 The Democratic Republic of the Congo (DRC) is a country in Central Africa that is rich in resources but still remains incredibly poor. A severe food crisis stems from government instability. In addition, violent armed groups often launch attacks and assaults on women and children. Luckily, there are several organizations empowering DRC women. This article takes a look at five of those organizations.
Severe Conditions for DRC Women
In 2018, more than 35% of women between the ages of 15-49 years reported being sexually or physically abused by an intimate partner. Further, almost 30% of girls under the age of 18 have been married or forced into a union. Finally, 70% of both women and men face food insecurity as well.
Here are five organizations that are combating these severe conditions and are actively empowering DRC women.
Kvinna till Kvinna Foundation
The Kvinna till Kvinna Foundation is an international organization that has been empowering DRC women since 2009. It calculates that 60% of women in the DRC live below the poverty line and have extremely low levels of political participation. The organization works to gain respect for women's rights and end discriminatory gender practices. Kvinna till Kvinna helps women participate in learning exchanges that provide education and economic empowerment. It also helps finance certain activities of the Rien Sans les Femmes (Nothing Without Women) movement, a collaboration of Congolese women's rights activists.
By supporting smaller partner organizations in the DRC, Kvinna till Kvinna has definitively lowered gender-based violence against women and has boosted political participation for DRC women. For example, the partner organization AFEM (Association des Femmes des Médias du Sud Kivu) is a collaboration of female journalists. It uses a radio station, Mama Radio, as its platform to empower DRC women.  Mama Radio caught on and AFEM was able to report reduced violence against women.
AFEM coordinator Julienne Baseke noted, "Thanks to Mama Radio, we have been able to break the silence on sexual violence, people are better informed and sexual and reproductive health issues are no longer taboo. The authorities are also held accountable on sexual violence issues and the media are mobilized on violence issues."
Women for Women International
Women for Women International empowers DRC women in numerous ways. Since 2004 it has supported more than 106,000 Congolese women. Its most recent impact evaluation reports increased access to credit, savings and assets.  Second, it reports an increase in women's ability to pursue entrepreneurship. Finally, it shares that women are benefitting from improved diets and mental health access. In 2022, 256 women received advocacy training in land titling. It also expanded upon its health insurance projects which were able to reduce fees for women and their families by around 50%.
Women's Peace and Humanitarian Fund (WPHF)
WPHF is an international organization that helps empower grassroots organizations to help women become more involved in political affairs. In the DRC, it works with Spotlight Initiative, another women's rights organization to fund 30 projects that 51 women's organizations in the DRC spearheaded. These organizations seek to eliminate violence against women and encourage political mobility for women. For example, WPHF supports our GRACE, which seeks to promote gender-based equality and peace in North Kivu. It also supports CAUSE RURALE, which focuses on providing humanitarian aid to reinforce stronger institutions for women.  Finally, WPHF supports AFPDE, in South Kivu and promotes the strength of women's organizations.
Women Concern (WOCO)
This Congolese nonprofit has been empowering women in the DRC by focusing on women and girls in rural areas. It focuses on helping women and girls see their own potential and provide them with development opportunities. Its unique approach is to utilize men and boys to be partners and co-agents to ensure change. It believes that promoting positive masculinity will in turn create a safe environment for women and girls to seek out opportunities. Its ultimate goal is to end the ongoing cycle of violence against women in the DRC.
Women, Cradle of Abundance
Women, Cradle of Abundance is a DRC organization. It has been empowering women in the DRC by attempting the eliminate systemic poverty for women. The organization provides physical safety, medical care, counseling and community services for women. It also helps improve education for women and girls by supporting schools for disadvantaged children. Women, Cradle of Abundance provides women with micro-savings and microloans. For example, it has provided 199 microloans to Kinshasha women. This helped them start or expand their businesses.
Moving Forward
Between international organizations such as Kvinna till Kvinna, Women for Women International and WPHF as well as DRC organizations such as WOCO and Women, Cradle of Abundance, a lot has been accomplished to empower DRC women. Past and current successes pave the way for more positive change.
– Anna Richardson
Photo: Flickr
https://borgenproject.org/wp-content/uploads/logo.jpg
0
0
Naida Jahic
https://borgenproject.org/wp-content/uploads/logo.jpg
Naida Jahic
2023-03-06 01:30:33
2023-03-05 06:55:54
5 Organizations Empowering DRC Women