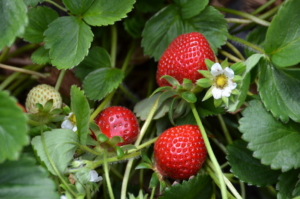 Kibera, located just outside Nairobi, Kenya, is Africa's largest urban slum. With a population of nearly a quarter of a million people, Kibera's residents live in overcrowded, unsanitary informal housing. The people have little access to healthcare, clean water, electricity and food. Kibera is currently struggling with food waste and poverty. However, a new composting initiative in Kibera brings hope to reduce both of these problems.
Due to its geographical location on the outskirts of Nairobi, access to jobs, such as working in markets can be difficult, especially for women. Many families rely on casual labor to pay for basic amenities, such as food, water and rent. Poverty levels are extremely high within Kibera and life expectancy is only 30 years old.
A Composting Revolution
Kibera produces roughly 230 tons of food waste a day. Recently, The Advocacy Project gave some funding to a small seed of an idea – a composting initiative in Kibera. Led by Stella Makena, the program, Shield of Faith, involves 15 women who have turned food waste into compost using worms. It aims to reduce pollution and improve livelihoods and nutrition in Kibera.
Collected food waste goes into these recycled plastic paint containers and red worms turn this food into fertilizer known as leachate. The worms ingest and break down the food waste into useful nutrients. This is a much more sustainable solution to putting food waste in a landfill where it creates methane, one of the biggest contributors to climate change. It's also better than leaving food scraps out on the streets, which is unhygienic and can attract animals and diseases.
Improving Livelihoods and Creating Sustainable Produce
The benefits of the composting initiative in the Kibera project are numerous. Not only does it reduce the amount of food waste, as well as reusing plastic containers, but it also creates a product that can be sold. Branded as Lishe-Grow (Grow-Nutrition), Shield of Faith sold 124 liters of its worm leachate at the annual fair of the Agricultural Society of Kenya. It also set up a model kitchen garden, according to The Advocacy Project. Half of the proceeds went directly to the women ($186), with the other half going into a joint bank account.
Furthermore, the leachate can be used to grow fresh vegetables for families in Kibera. This can not only provide fresh, healthy produce to improve nutrition but can reduce food bills and be sold for further income. Stella, for example, now grows 40% of her vegetables and has reduced her food costs by one-fifth. Many members have made space for kitchen gardens in their small settlements, growing green vegetables and strawberries. The organization is currently making plans to provide kitchen gardens for those members who currently lack the space.
Bringing Compost to the Next Generation
The composting initiative in Kibera has now started expanding into schools. Excitingly, Shield of Faith has also been officially registered by the government. It has recently been spreading awareness by demonstrating the benefits of composting at Project Elimu, an after-school initiative that around 1,000 students from 40 different schools attend. There, it constructed a kitchen garden out of old wooden shelves and plastic tubing, training over 300 children to plant and grow seeds, according to The Advocacy Project.
Now, it hopes to focus its efforts on schools themselves, which produce a large amount of food waste. Shield of Faith hopes to appoint ambassadors and educate the students about other concepts such as carbon credits.
The team sets high goals, with the aim of composting 3 tons of food waste this year and to also expand beyond Kibera, perhaps also building partnerships with schools in the Global North. Shield of Faith is showing that a simple idea can be powerful and transformative in so many ways.
– Ottoline Spearman 
Photo: Flickr
https://borgenproject.org/wp-content/uploads/logo.jpg
0
0
Naida Jahic
https://borgenproject.org/wp-content/uploads/logo.jpg
Naida Jahic
2023-05-16 07:30:29
2023-05-15 15:15:31
Composting Initiative in Kibera