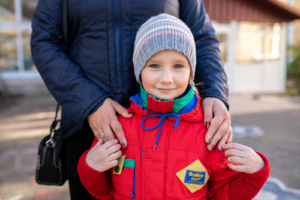 The impact of war is increasing child poverty in Ukraine at an unprecedented pace and redefining what it means to be a Ukrainian child in need. As the Russian invasion of Ukraine forces nearly two-thirds of Ukrainian children to flee their homes, refugee crisis milestones not seen since WWII are being reached. UNICEF estimates that the war has resulted in 4.3 million displaced Ukrainian children, with nearly 2 million of those children now refugees.
Poland Responds as Child Poverty in Ukraine Reaches Its Borders
Response by European countries has been swift and impactful. Many have opened their borders to those fleeing Ukraine, including Romania, Germany, Moldova, Slovakia, Hungary, Italy, the Czech Republic and more. The largest influx of refugees by far has been in Poland, with nearly around 3 million Ukrainian nationals crossing its border, 1.1 million of whom are children.
Poland's response has been remarkable. In addition to opening its borders to millions of Ukrainian refugees, the neighboring country has enacted new governmental protections as a way to support those fleeing Russian aggression and curb further social and economic trauma. In March 2022, the
Polish parliament passed an act
offering legislative and financial support for Ukrainian nationals entering Poland.
Social and Financial Benefits
A Home Away From Home – As a result of the new law, all Ukrainian nationals who enter Poland due to the Ukrainian invasion, have a right of residency to remain in Poland for 18 months. There is also an option to extend residency benefits an additional 18 months, should it be necessary.
Financial and Social Benefits – Families receive monthly stipends per child as well as financial assistance to pay for school supplies and nursery school. Ukrainians receive cash allowances for subsistence and businesses that assist in supporting displaced Ukrainians will also receive financial assistance for 60 days. Additionally, all Ukrainian refugees have access to the Polish health care system.
Education for All Children – Under the new act, Ukrainian children receive the same educational opportunities as Polish nationals. Language accommodations for children who do not speak Polish are provided, while college-age Ukrainian nationals are able to continue their higher education at Polish universities.
Work Opportunities – Ukrainian refugees can legally work in Poland, without having to apply for work permits, thus enabling them to provide financial support for their families by having access to the Polish labor market.
Open Hearts and Homes – In addition to the new law that parliament passed, many Polish families are hosting Ukrainian refugees in their own homes. By providing food and shelter, Polish citizens are trying to right many wrongs they fear could threaten their own families in the future.
Looking Ahead
As the war in Ukraine continues, measures like these will help Ukrainian children counter the long-term effects of war. More work is necessary, however, as the U.N. fears that the Russian invasion will undo 18 years of economic growth, with most Ukrainian families now at risk for extreme poverty and vulnerability within the next year. While Poland has offered generous subsistence, concerns about the sustainability of such efforts are many.
With many European countries opening their borders to refugees and taking on similar measures, progress in alleviating child poverty in Ukraine is transforming into a global response.
– Michelle Collingridge
Photo: Flickr
https://borgenproject.org/wp-content/uploads/logo.jpg
0
0
Jennifer Philipp
https://borgenproject.org/wp-content/uploads/logo.jpg
Jennifer Philipp
2022-05-31 01:30:08
2022-05-19 07:20:57
How Poland is Alleviating Child Poverty in Ukraine