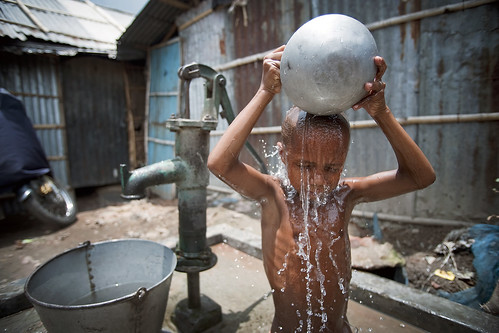 Sir Fazle Hasan Abed KCMG founded the Bangladesh Rural Advancement Committee (BRAC) in 1972. The nonprofit began as a localized program in northeastern Bangladesh to promote agricultural reform and educational training. BRAC now influences over 11 countries in both Asia and Africa. It hones in on projects that work to improve social lives, social enterprises, national investments and university opportunities. The organization's main accomplishments pertain to improving health in Bangladesh. Desiring the collaboration activists, BRAC enhances the abilities of individuals to gain work experience, especially with an environment that supports their physical and mental health.
Healthcare Issues in Bangladesh
Out-of-pocket spending on healthcare in Bangladesh is around 64.3% of total health spending. Bangladesh spends approximately $1.49 billion annually on situations concerning one's health. This is concerning as average income households spend 7.5% of their total earnings on healthcare, with the least financially stable citizens, comprising the poorest 20%, spending 13.5%. The need to spend a large amount of income on healthcare puts a strain on Bangladesh families, especially since a little over 20% of the population lives below the national poverty line. Around 10% are employed for under $1.90 a day.
Money is not the only factor affecting people in Bangladesh. Only 34.6% of the population has access to purified drinking water as the country has the largest amount of citizens infected by arsenic-filled water. This dangerous chemical still contaminates nearly 10% of the water supply. Furthermore, 28.3% of the population drinks water infiltrated with various diseases that further damage physical health. Of further concern is the fact that sanitation only improves by 1.1% annually, not growing fast enough to better the environment that many citizens live in. Over 40% of latrines are unimproved, with the sewage waste even running into waterways due to a lack of sanitation programs. This exemplifies the necessity to improve individual health in Bangladesh.
Health and Nutrition
High annual healthcare costs are driving 5 million Bangladesh civilians into poverty. As a result, BRAC has deployed many healthcare workers to directly work with citizens in Bangladesh. They ensure citizens have access to quality, affordable health services. Establishing Essential Health Care (EHC), the nonprofit works to improve the immune systems of individuals. The EHC assures that people are not as easily susceptible to various diseases in the environment or water supplies. In addition to providing healthcare services for mothers and children, it also works on basic treatments to counteract the negative effects of acute respiratory infections at an affordable price. This specific program partnered with government agencies in the Ministry of Health and Family Welfare (MoHFW) and now offers healthcare opportunities to more than 120 million people in the 64 districts of Bangladesh.
With the sub-section of the Challenging the Frontiers of Poverty Reduction – Targeting the Ultra Poor (CFPR-TUP) program, BRAC designs special needs for the 8% of the Bangladesh population that suffers from extreme poverty. Moreover, it created its Community-based Management of Acute Malnutrition (CMAM) program to provide supplementary foods to both mothers and children between the ages of 6 months and 5 years. Not only does this program support those suffering from malnutrition, but it eases the pain that mothers have to go through when breastfeeding and lack of vitamin intake. This enabled the education of 2 million women regarding healthy diets and the benefits of breastfeeding.
The WASH Program
The WASH program works toward improving water, sanitation and hygiene in Bangladesh and to create more hygienic practices. It has started its journey in the country by focusing on education. Many do not learn about the necessity of cleanliness. Through BRAC, however, 5,700 secondary schools have now included hygiene discussions in their curriculums. The organization is also working to ensure that local research facilities provide affordable opportunities to test every district's water supplies.
Additionally, the nonprofit partnered with Jamalpur municipality to operate a waste plant. This effort counteracts the intrusion of waste into clean waterways. Volunteers and BRAC workers work through the WASH program to ensure health in Bangladesh. They especially focus on Rohingya refugee camps and areas that experience the effect of floods. Every dollar that goes to the program results in $4 towards sanitation improvements in Bangladesh.
BRAC wants to increase the professionalism of frontline services and introduce a strong variety of for-profit products and programs. It continues affordable programs to improve Bangladesh citizens' health and focuses on cleaning the water supply, like introducing hanging latrines and counteracting the malnutrition that mothers and children suffer from. The Bangladesh Rural Advancement Committee strives specifically to reform the healthcare system in this South Asian country through such actions. Its achievements include giving 2.52 million people access to safe drinking water with the aid of technological advancements. Through its various accomplishments, this nonprofit continues to achieve more every year even after nearly 50 years of service.
– Sylvia Vivian Boguniecki
Photo: Flickr
https://borgenproject.org/wp-content/uploads/logo.jpg
0
0
Kim Thelwell
https://borgenproject.org/wp-content/uploads/logo.jpg
Kim Thelwell
2021-03-15 12:09:34
2021-04-23 12:09:49
How BRAC is Improving Health in Bangladesh