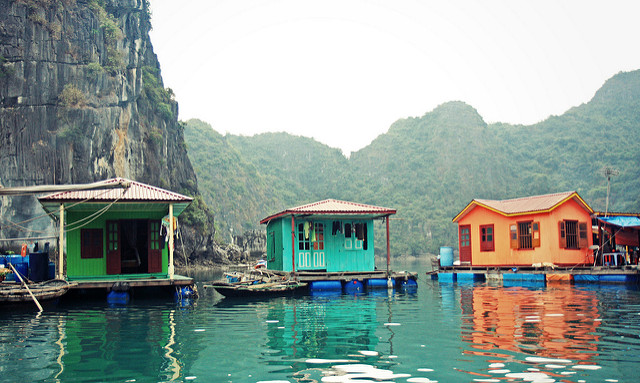 Vo Trong Nghia is transforming Vietnam's skylines by way of cascading gardens, open-air corridors and lots of natural materials. A commitment to sustainability was inculcated into Vo Trong Nghia's childhood and has shaped his philosophy as an architect. Growing up in the forest of Vietnam, he watched the destruction of that entire forest area for timber use. Bamboo, though, is much more sustainable.
But the architect's focus isn't only on Vietnam's big cities. The country's urgent need for low-cost permanent housing has inspired the development of prefabricated dwellings that can be built for a modest $4,000. These structures offer an alternative plan for providing low-cost housing for the poor.
Entitled "S Houses," an iteration of steel-framed units was introduced in 2012 and has been updated to ensure higher stability and thermal control for use in tropical climates like Vietnam. In their design, S Houses employ a very basic construction strategy: modular components supplemented by locally sourced DIY finishes. The prefabricated nature of the structures helps regulate quality and cost management, two crucial aspects of mass production.
While the lightweight material of the houses allows for transportation by small boats, a main means of transportation in Vietnam, the homes have also been designed to withstand natural disasters. Nghia is no stranger to the hardships faced by poor areas during harsh weather. Raised in a "super poor" family, he experienced severe tropical storms in their central Vietnamese farming village.
A nipa palm and corrugated cement insulated roof, for example, protects S house dwellers from heavy rainfalls characteristic of Vietnam's Mekong Delta district. In addition, polycarbonate panels reduce the need for artificial lighting by maximizing the amount of natural light entering the house while also promoting natural ventilation.
These prototypes are some of several international efforts to address issues of low-cost housing for the poor all over the world. However, making the leap between prototype and mass production involves its own set of hurdles. Geographic and cultural differences present challenges to mass use as well. Departure from traditional materials characteristic of different areas, to the S House steel-frame design, can make it more difficult for these houses to feel like people's homes.
Though the S Houses were originally designed for low-cost housing for the poor in southern Vietnam, the DIY aspect of the S House construction strategy allows for alterations based on the climate and environment. Nghia remains hopeful in his plans to mass-manufacture these portable homes for people in slums, remote areas or refugee camps all over the world.
– Richa Bijlani
Photo: Flickr
https://borgenproject.org/wp-content/uploads/logo.jpg
0
0
Borgen Project
https://borgenproject.org/wp-content/uploads/logo.jpg
Borgen Project
2017-11-26 09:57:33
2019-11-20 07:00:49
Vietnamese Architect's Plan for Low-Cost Housing for the Poor