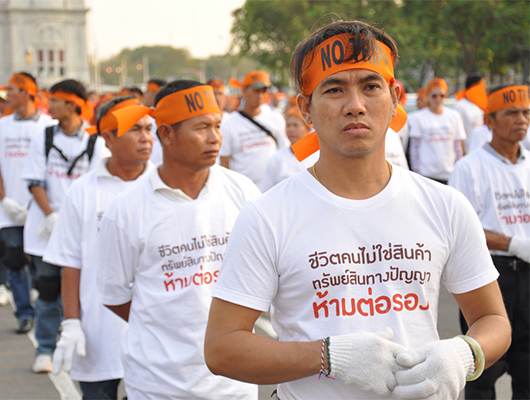 When many think of places most devastated by the AIDS crisis, usually Sub-Saharan Africa first comes to mind. However, the disease also has spread to parts of South and Southeast Asia, where it is perhaps not as destructive, but still a major public health concern. Countries such as Indonesia, Laos, the Philippines and Sri Lanka all have rising rates of HIV/AIDS deaths. Thailand is particularly afflicted by this auto-immune disease. In total, nearly 500,000 people live with HIV/AIDs.
Mechai Viravaidya, the former politician and activist who first began the campaign to fight AIDS two decades ago, has become vocal once again. He claimed that "The government has fallen asleep at the wheel" and that HIV has become a health crisis in Thailand.
The figures seem to confirm his decree. HIV/AIDS remains the number one cause for premature death in Thailand and HIV infections are now rising. Since 2011, the number of AIDS-related deaths has also been rising.
The burden of the epidemic has fallen heavily on certain high risk groups. One such group is young people; those aged between 15 and 24 accounted for around 70% of the annual sexually transmitted HIV cases.
Among young people, certain minority and marginalized demographics are even more likely to contract HIV. In Thailand's capital, Bangkok, the percentage of gay men with HIV has risen drastically. While in 2003 an already shocking 17% of homosexuals living in the city had HIV, by 2011 those figures had risen to nearly 30%.
Two more marginalized groups, intravenous drug users and migrant sex workers, are also vulnerable. Unlike their counterparts in brothels, informal, migrant sex workers do not receive information or health services that would help them to avoid contracting HIV. Those who inject drugs are likely to receive inadequate government support for their addictions; the Thai government will only provide addicts with 11 sets of clean needles a year compared to the 88 needles deemed necessary.
Yet, as bad as the crisis is now, it was once far worse. From 1991 to 2003, Thailand experienced a 90% decline in the number of HIV infections. This trend, until recently, had continued; while in 2005 the annual total of new infections was around 15,000, in 2013 it fell nearly in half to only 8,000. Much of this dramatic decline can be contributed to comprehensive awareness campaigns and the widespread dissemination of condoms throughout the sex industry.
So, then, why has this progress stagnated in recent years?
The answer lies in generational changes that have taken place over the past 20 years. The advent of smart phones and the expansion of social media on the Internet have allowed people to connect and have sex without having to meet in public places such as bars, where many of the awareness campaigns took place. This shows in the data; according to a UNAIDS report, "There is no clear sign of improvement in knowledge, condom use and STI among general population and youths on the national scale."
AIDS was once the number one cause of death in Thailand when the epidemic was at its peak. Today AIDS is the fifth leading cause of death. With renewed efforts, hopefully it can fall even lower on that list.
– Andrew Logan
Sources: Bangkok Post, Trust, UNICEF, UNAIDS, Voice of America
Photo: Flickr
https://borgenproject.org/wp-content/uploads/The_Borgen_Project_Logo_small.jpg
0
0
Borgen Project
https://borgenproject.org/wp-content/uploads/The_Borgen_Project_Logo_small.jpg
Borgen Project
2015-07-26 08:44:52
2020-07-03 16:18:04
The AIDS Crisis in Thailand