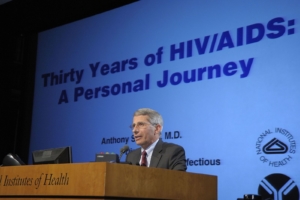 The 24th Annual AIDS conference occurred in Montreal between July 29, 2022 and August 2, 2022. This was the first year the conference employed a hybrid model with both in-person and virtual speakers. As a result, researchers, advocates and leaders from 172 countries attended, and most were from developing countries.
The AIDS conference displayed many breakthroughs in HIV prevention and the intersections between sciences such as clinical, political, social and behavioral. The greatest clinical development, according to the co-chair of the conference Dr. Jean-Pierre Routy, was the research that found that the receipt of a long-acting injection shot of antiretroviral medication every eight weeks is "safe and superior" to daily oral medication.
Necessary Steps
However, though medical science is taking strides forwards, the rollout of these treatments remains behind. Esteban Burrone, the Head of Policy at the Medicines Patent Pool, described the necessary steps to promote the equitable rollout of HIV antiretroviral medication. Each country needs FDA approval, licensing, manufacturing and recommendation in guidelines for a rollout to receive approval. Things that can help fast-track product rollout in countries are "community involvement in demanding access, pursuing early licensing, securing national approval, equitable pricing agreements." In addition, Dr. Karin Hatzold, a public health physician, discussed how access to "diagnostic strategies such as HIV self-testing… [and] operations research to optimize delivery models" are crucial for a successful rollout and introduction to products.
Reaching Rural Areas
Tackling the difficulty of delivering medications to vulnerable populations in developing countries, however, is Dr. Rosalind Parkes-Ratanshi. Parkes-Ratanshi discussed a pilot project in Uganda where medical drones help distribute HIV medication in remote locations and for mobile populations. Her medical drone project is also used for COVID-19 and STI sample delivery. Although this does not address the policy required to roll out new products in other countries, it is a step to reaching rural populations with already approved antiretroviral medication.
New Framework
Furthermore, representatives from the World Health Organization (WHO), Global Fund and the International Aids Society (IAS) presented new people-focused guidelines that the WHO has adopted to focus on structural barriers. This includes reducing stigma and eradicating "punitive laws." The new framework also works to target key populations who make up 70% of new HIV infections according to UNAIDS. Each presenter at the AIDS conference including the WHO strives to progress the global community toward the UNAIDS 95-95-95 target, a goal that states by 2030, 95% of people living with HIV will know their HIV status, 95% of people who know their status will be receiving treatment and that 95% of people on HIV treatment will have an undetectable viral load making the chance of infecting others very low.
PEPFAR News
PEPFAR, the U.S. President Emergency Plan for AIDS Relief, announced that 5.5 million babies across the world have been born HIV-free due to the program's efforts. PEPFAR's efforts to expand treatment and prevention services to many target populations across the globe have reached millions. U.S. Global AIDS Coordinator and Special Representative for Health Diplomacy Ambassador-at-Large Dr. John Nkengasong described the prevention program that made this possible. "In collaboration with countries, communities, and our partners, PEPFAR supported comprehensive HIV prevention programming for adolescent girls and young women, voluntary medical male circumcision, and we scaled up treatment for women and men with viral suppression." Other PEPFAR announcements included reaching the 90-90-90 UNAIDS target in at least 12 "high HIV disease burden countries" and treating approximately 20 million men, women, and children with antiretroviral medication.
These were only a fraction of the many positive advancements that researchers discussed at the 2022 AIDS conference. Much progress has occurred in understanding other barriers such as the social, political and economical barriers to reach the UNAIDS 95-95-95 goal by 2030. Check out the AIDS 2022 website for more information about the 24th Annual AIDS conference.
– Jordan Oh
Photo: Flickr
https://borgenproject.org/wp-content/uploads/logo.jpg
0
0
Naida Jahic
https://borgenproject.org/wp-content/uploads/logo.jpg
Naida Jahic
2022-09-03 01:30:23
2022-09-01 11:26:15
Updates From AIDS Conference 2022