New App Combats Agricultural Poverty in Uganda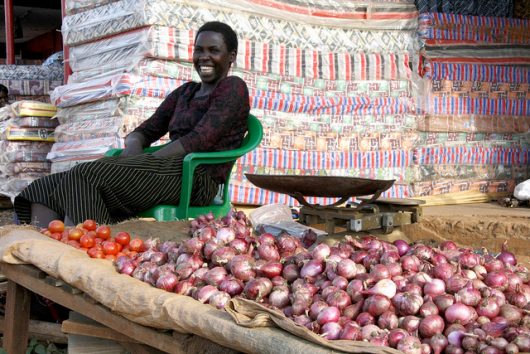 Innovative technological developments are supporting communities and changing lives in Uganda, a country home to one of the youngest and most quickly growing populations in the world. One such advancement is the Community Knowledge Worker (CKW) app – created by the Grameen Foundation – designed to combat agricultural poverty in Uganda.
About 86 percent of Ugandans are farmers of minuscule plots of land and most work by hand, with access to only the most preliminary tools. Poor access to information on rainfall – combined with viruses and parasites that can devastate crop production – has left the country's dominant agricultural community vulnerable to poverty and famine. Approximately 33 percent of Ugandan children, including those in the lush hills where much of the cultivation takes place, are starving.
Bolstered by a grant from the Bill and Melinda Gates Foundation, CKW has been developed in response to the endemic problems in Uganda's agricultural sector. It works in two ways: by building ties with communities through a physical presence (40 "knowledge workers" have been hired during the trial run) and through an app, which provides community leaders with the information needed for a successful harvest.
Results so far have been excellent. Mary, one of the community leaders who uses the app, now has access to weather reports, data on the best market price for her produce as well as "Almanac," a farmer's encyclopaedia. Her banana patch, formerly rife with worms, has been turned around. She can then subsequently use the CKW app to work out the best location, time and price in order to sell her produce.
CKW's success can be attributed to its recognition of how to most simply solve the problem of agricultural poverty in Uganda. Women are the heaviest users of the service, giving them an invaluable lifeline as they struggle to balance child rearing with farming.
The widespread use of cell phones is also a demonstration of how readily accessible this kind of technology can be even in the most remote places; shockingly, more people have access to cell phones than toilets in Africa.
The Grameen foundation has treated this dispersal of the project in Uganda as a trial run. Plans to expand in the future have the potential to alleviate poverty for farmers across the continent and beyond.
– Jonathan Riddick
Photo: Flickr
https://borgenproject.org/wp-content/uploads/logo.jpg
0
0
Borgen Project
https://borgenproject.org/wp-content/uploads/logo.jpg
Borgen Project
2017-09-13 01:30:41
2017-10-16 11:53:00
New App Combats Agricultural Poverty in Uganda